Welcome to Kohlmann's Mini Services
"We go where the BIG boys can't."
Call Us At: 920-946-5161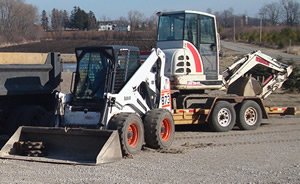 Kohlmann's Mini Services was started in 2010 when James Kohlmann bought Warren's Excavating from Warren Kimme which was in business for 10 years.
James has always dreamed of being a business owner
and being able to work for himself. Our focus is quick
and efficient work with little property damage due to
lighter equipment and the ability to operate in small places.
James Kohlmann, President
James grew up in Kiel, WI and graduated from Kiel High School in 2006. He then went to schoolat ATS in Sun Prairie to further his education. There, he became NCCR Certified and received his CDL. After he finished schooling, he went out and attained jobs. His first job was at Van Wykes where he learned about grading. He then went to Braun Electric where he put his CDL to use and gained experience operating equipment. Then when Braun Electric was slow in the summer he went to Roeh Excavating where he gained more experience operating equipment and grading. He took all of his experience and started his own business. He has been in business for a year now and has many satisfied customers.